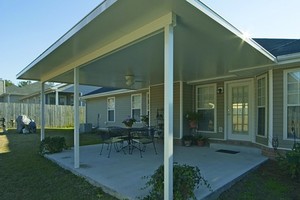 Crisp fall weather is right around the corner here in Lakeland - and there's no better way to enjoy the cool, sunny weather ahead than with a beautiful Lakeland patio cover! We here at White Aluminum can help you design, craft and install the ideal cover for your unique space. Take a look below to learn more about why we love this backyard addition.
Cohesive style and function
Our custom carports and patio covers are designed to fit your one-of-a-kind style and needs! Crafted with durable aluminum or composite panels, these structures can help you extend your entertaining space, or protect your car, bike or other outdoor gadgets from the elements - because even sunlight can wear and tear your vehicle or patio furniture over time. For those who know the importance of a cohesive look that flows from room to room, our carports and patio covers give you a way to design multiple structures with the same sense of style in the backyard, front yard and wherever else you may need some added coverage.
A cleaner space to entertain and unwind
Who wants to spend their free time sweeping leaves and seeds away from your patio space, or shaking out patio sofa cushions after everyday exposure to the elements? A patio cover helps you protect your outdoor space and the furniture that belongs there - plus, it will help keep you and your family cool and shielded from the sun all year long.
Endless decor options for an elegant touch
For those who love to decorate their homes for the holidays or even just year-round fun, a patio cover extends your canvas for unlimited decor opportunities. You can string up festive, glittering lights, hook up a lightweight outdoor speaker or even add breezy curtains to name a few fun ideas.
Now that you know all the benefits behind a patio cover of your own, let us help you get started on this exciting project! Call White Aluminum Lakeland today to learn more and begin beautifying your patio and outdoor space.