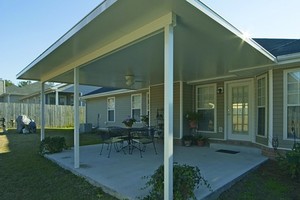 Summer is almost upon us, and we're all looking for ways to cool down as we enjoy the great outdoors! White Aluminum's Lakeland patio covers can help you soak up some serious shade on even the hottest, sunniest summer days — but they're useful long beyond this season, too. In fact, our patio covers might just be the year-round outdoor addition you've been looking for! Just read on to see how a patio cover can serve you and your family's needs, season by season.
Summer: Comfortable Shade And More Ways To Cool Down
At this time of year, we're all focused on finding ways to beat the heat — and the shade from a patio cover can help you do that, cooling down your outdoor space for your friends' and family's total comfort. Kids can play with toys, bikes, and chalk without worrying about the sun's strongest rays impacting them as they enjoy their day. Plus, you can even add an outdoor fan to further cool down your patio.
Fall: Make Your Outdoor Space Easier To Clean
Florida may not see the characteristic fall foliage of our neighbors up north, but we still deal with falling seeds and leaves during the cooler months! A patio cover can help keep your outdoor entertaining space (from the floor to the furniture) clear of debris, so you spend less time cleaning up and more time enjoying your outdoor oasis.
Winter: Take Holiday Entertaining Outdoors
Summer's ample sunshine doesn't go away in the winter months! In fact, at this time of year, the cool weather draws many families outdoors to enjoy the brisk, pleasant weather — which is why a patio cover makes the perfect complement to your holiday entertaining setup.
Another big benefit of having a patio cover during the winter months? It gives you more real estate for holiday light displays! String up your favorite colorful bulbs from the patio cover posts and turn your backyard into a vibrant winter escape.
Spring: A Beautiful Place To Grow Your Shade-Loving Garden
If springtime's warmth brings out your inner green thumb, you may be looking for ways to extend your gardening workspace! A patio cover provides exactly that, giving you more room to grow plants that do best in shade as opposed to harsh sunlight.
From warm, sunny summer days to the pleasant briskness of fall and winter, White Aluminum patio covers can help you enjoy it all to the fullest! Contact us today to get started on this versatile outdoor addition.