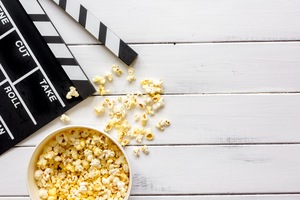 Even if you can't go to the movie theater right now, you can still enjoy your favorite flicks from the comfort of your own backyard! Your Lakeland patio is the next top "drive-in" spot, and we've got tips on how to achieve the perfect cinematic atmosphere. Take a look below to see our fun, festive suggestions.
Hang up a white sheet for your projector screen
One of the great things about your outdoor movie night is that you don't need any fancy equipment to get started! A crisp white sheet can serve as your projector screen - you simply need a good place to hang it up (our Lakeland patio covers and pergolas work perfectly for this). Then, you will just need a projector (there are many affordable options out there, such as Bluetooth-compatible and handheld) and your streaming device to choose a movie the whole family will enjoy.
(Tip: Kids will love taking turns choosing the evening movie! This will help make it a fun, involved event for all.)
Add warm, guiding lights...
Movie night calls for near darkness to help the screen really "pop." But of course, just like your favorite movie theater, you will need some lighting to help your moviegoers walk from their seats into the house with ease whenever they need a break or concession refill. Solar-powered path lights are great for this.
... and plenty of comfy seating
The right seating setup can make or break movie night! We love comfy sectionals, bean bags and other ultra-relaxing options. An outdoor papasan chair is also sure to please, and fits in perfectly with the fun movie environment.
Don't forget the theater snacks
Your patio night pairs perfectly with classic theater snacks! Pop some fresh popcorn and set up a snack station with spare bowls, your family's favorite candies and other goodies. Delicious flavors minus movie theater prices? Count us in!
What's playing? With a sweet outdoor theater setup like this, you can have a new answer every night! We hope these ideas help you enjoy family fun to the fullest. Remember - here at White Aluminum Lakeland, all of our products (from patio covers to pergolas, pool enclosures and more) can be used to make your outdoor space even better. Contact us today to get started.