Lakeland Windows & Home Improvement
White Aluminum is a leader in Lakeland windows and home improvements. We sell and install windows, doors, screen enclosures, pool cages, gutters, handrailing and many other aluminum & glass building products. We service Polk County and the surrounding areas selling and installing:
Windows
Sliding glass doors
Entry doors
Storefront
Hurricane shutters
Pool cages
Screen enclosures
Handrailing
Soffit & fascia
Seamless gutters
Siding
Custom aluminum fabrication
LATEST NEWS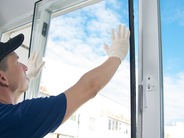 5 Signs That Your Home Needs Replacement Windows Lakeland FL
Learning the telltale signs that windows have reached the end of their effective life cycle is key to optimizing your spending. It makes fiscal sense to wait until windows start to compromise your quality of life before investing in replacement windows Lakeland. Replacing them too soon may waste the months or even years that they have left. Timing is essential so keep an eye out for these 5 giveaways that it's time to get replacement windows for your Lakeland home!
MORE NEWS