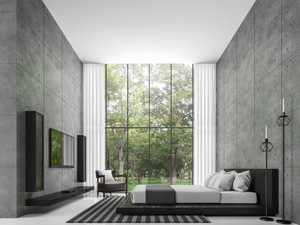 As a homeowner, you might be faced with the perplexing question of "Do I need new windows?", replacing your windows can be a big decision.
With many ultra-durable and energy-efficient options for replacement windows in Lakeland, your home can benefit from a new look, reduced noise, and enhanced indoor air quality. Here are some signs that indicate it is time to consider a window replacement for your home.
Higher Energy Consumption
You might be experiencing increased energy bills lately, especially during the hotter and colder days. Your old windows might not be providing adequate insulation.
You can test this for yourself by holding a candle near the edges of the window frame. If the candlelight flickers due to a draft of wind through the gaps, it is a sure sign that your windows need replacement.
Your HVAC unit must work harder to maintain the temperature in your home. Older windows can be prone to leaks as they are usually single-paned. Newer windows are designed to be energy efficient and prevent the transfer of air between the interior and exterior of your property.
Leakage Through the Windows and Noticeable Decay
One of the most apparent signs that you need new windows is when the window frames start to rot. Over the years, window frames have been constantly exposed to the harsh elements of nature, and built-up moisture can compromise the structure of your windows, leading to safety concerns.
During torrential storms, you might even notice water leaking into your home through the windows. Moisture can cause health hazards by promoting the growth of mold. If you see puddles on your floor, it is time to start looking for a replacement.
Your Windows Are Getting Hard to Operate
Operating your windows should be effortless. For instance, newer double-hung windows are equipped with two sliding sashes that enhance ventilation and allow for easier cleaning.
Modern window frames, such as vinyl frames, come with state-of-the-art sliding and locking technologies that provide simple and seamless operation.
If your windows are jammed, and you cannot open, close, lock, or unlock them, it might be a sign that it's time to start looking for newer replacement windows for your home.
Your Home Is Noisy
Are you constantly bothered by annoying noises from outside? Frequent sounds from traffic, airplanes flying over your property, dogs barking, or your neighbor trimming their grass can all be a nuisance.
While you cannot control what happens outside, many sound-proof window replacement options can reduce the level of disturbance inside your home.
By installing windows with panes of varying glass thickness and insulating the new window frames to be airtight, you will be able to enjoy a quieter and more peaceful home with enhanced sound resistance.
Get Replacement Windows in Lakeland to Enhance Your Curb Appeal
Are your existing windows too dated? Older frames not only lack the functionality of newer windows, but they might also look unattractive and take away from the beauty of your home. By installing new windows, you can give your home a fabulous makeover while increasing its value.
With a wide selection of materials, styles, and colors available, a professional windows and home improvement expert will be able to help you find the perfect windows for your home.