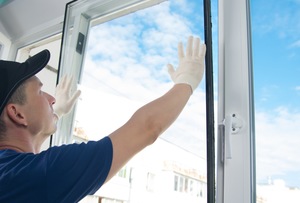 Learning the telltale signs that windows have reached the end of their effective life cycle is key to optimizing your spending. It makes fiscal sense to wait until windows start to compromise your quality of life before investing in replacement windows Lakeland. Replacing them too soon may waste the months or even years that they have left. Timing is essential so keep an eye out for these 5 giveaways that it's time to get replacement windows for your Lakeland home!
Recurring Cold Drafts
Do you often feel a draft each time you're near your windows? This is most likely because the seals are damaged. When your window seals allow in air from the outside, it compromises your home's thermal stability which adds to your HVAC system's workload and drives up energy costs. White Aluminum's replacement windows are guaranteed to prevent this leakage!
Noticeable Condensation Between the Panes
When there is a drastic difference between interior and exterior temperatures, you may notice your windows "sweating." This condensation between the glass panes is actually indicative of a deeper issue. When a window's glazing loses its effectiveness, it becomes easier for moisture to find its way between the panes, forming the condensation that looks like sweat.
Increasing Amounts of Outside Noise
No window can block outside noise entirely. However, have you noticed hearing more of what goes on outside? Between yard work, passing vehicles, and barking dogs, this sound pollution will gradually creep in more and more as the insulation of your windows loses its efficacy. Our replacement windows are designed to reduce sound transfer, which provides you with more peace and quiet!
Faulty Window Operation
As windows age, it is natural for them to develop balance issues which lead to jamming and sticking. This is often because rust, rot, and mold form and compromise their ability to operate. If you are struggling to use your windows, it may indicate that they are at the end of their life cycle and need to be replaced.
Natural Decay and Water Damage
Extreme weather can be harsh on windows. This is especially evident in Florida, where hurricanes and thunderstorms run rampant – in addition to our already humid climate! Over time, windows may naturally sustain some cracking, chipping, or rotting. Not only will this hurt their functionality but it's simply unsightly, as well. As your windows get uglier (to put it bluntly), the time may be right for replacement windows.
Don't let old windows hurt your quality of life after they've reached the end of their life! If you keep a careful eye out for these signs and symptoms of obsolete windows, you'll be able to make the most of their lifespan and replace them when they're ripe for replacement. Once that time comes, reach out to your friends at White Aluminum! Our replacement windows are the perfect solution for any replacement or home remodel Lakeland FL needs. Simply request more info today and we'll be in touch!