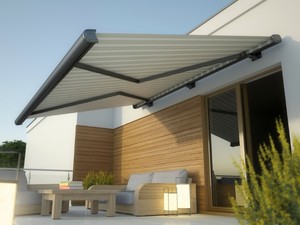 Residential awnings don't just add to the beauty and style of your home – they are sure to enhance your quality of life, as well. Think of these incredible home features as the original air conditioner, built for outdoor enjoyment as we make the most of Lakeland's incredible year-round climate. With a plethora of benefits ranging from aesthetic to practical, join us in learning more about why your Lakeland home needs awnings!
Shelter from the Elements
Besides keeping you safe from rain, awnings are also excellent at diverting harsh sunlight away from your outdoor space. In fact, awnings can decrease the temperature underneath them by up to 20 degrees F! Don't sweat those oppressive summer days anymore – install awnings and enjoy the great outdoors again.
Protection from UV Damage
Ultraviolet damage is a slow and steady burn. Fabric, flooring, and other materials are sure to fade when roasting under the sun day in and day out, and they change so gradually that you may not even notice the extent of damage until it's too late. Awnings will keep your patio, furniture, and whatever else you have outside safe from direct exposure to UV damage, preserving their aesthetic for years to come.
Expanded Outdoor Space … Without Expanding
Your patio, porch, and backyard are all a part of your home. Without overhead protection, you are likely not making the most of all the space at your disposal or, at the very least, not enjoying it as much. If uncomfortable heat or extensive sun exposure are keeping you inside, rely on awnings to get back out there again! Awning installation may very well be like adding an extra room to your home because you can finally enjoy your outdoor space no matter what time of day it is.
Improve Energy Efficiency
Can you believe that awnings may even save you money long term? It's true – awnings provide shade for your windows and prevent heat and moisture elements from getting trapped in your home, which means your air conditioning won't have to work as hard to keep the interior cool. These simple home features not only make it more enjoyable to spend time outdoors, but they even make it more comfortable when you choose to stay inside, too.
White Aluminum's Lakeland awnings are more than a beautiful finishing touch – they are a fully functional piece of your improved outdoor space! Our SunGuard awning system reduces heat gain while providing impeccable protection from wind and rain. Don't be intimidated by harsh Florida heat or fierce storm seasons anymore, contact White Aluminum & Windows for a solution tailored to your home!