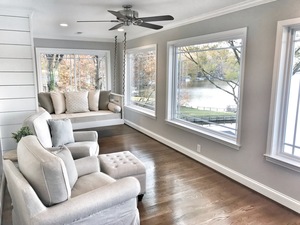 After a winter season that was mostly mild but still packed a frosty punch, many Floridians are itching to get out and enjoy the sunny outdoors again. A fresh start to spring is the perfect time to enjoy your sunroom and take in wondrous green views through its big windows and soak up some sun without the interference of rain or bugs. However, springtime brings with it smothering heat that can come in right through your windows. Keep your Lakeland sunroom cooled off with these 4 tips for maximum comfort!
Increase Airflow
Heat rises and it will need a place to escape. A sunroom's name is self-explanatory: it takes in plenty of direct sunlight through a high quantity of windows. The problem is that your sunroom will be soaking up all the heat from that sunlight and needs somewhere to push it out. Ventilation openings high in the sunroom are ideal for granting that heat a place to escape. Furthermore, you can increase the amount of airflow pushing the heat out with fans pointed towards the vents. Plus, fans keep the air moving so that heat does not linger!
Utilize Tinting and Insulation
Installing blinds or other window covers in your sunroom can make all the difference in the temperature inside. Additionally, the windows themselves can be tinted to block out some of the light as well as a proportionally larger amount of the heat. For all the benefits that tinting offers, you cannot adjust the volume of light that a tinted window will admit. Similarly, insulated windows can be installed to create a more energy-efficient space year-round by keeping warm air outside.
Install Shutters or Screen Systems
To have a more direct control over the specific amount of sunlight coming through your windows, you will be best served by utilizing shutters, blinds, or screen systems. Blinds can be partially opened or tilted up or down to deflect solar radiation in a different direction without fully compromising the amount of sunlight coming through. This way, you still get the benefits of a Florida sunroom without overheating. Besides that, motorized retractable screen systems are the perfect solution for your heating woes. With one touch of a button, your motorized screens roll down to cover as much of your windows as you want them to, then retract when you don't need them anymore.
Add a Ceiling Fan
Keeping the air within your sunroom circulating is essential to maintaining a comfortable atmosphere. Using fans in combination with other solutions, such as window shutters, offers a highly effective tandem at keeping your sunroom cooler. A ceiling fan will also add to the aesthetic of your sunroom, giving it a more welcoming and tropical feeling. If ceiling fans are not a plausible option, portable fans will also suffice – just point them upward to keep the hot air blowing towards escape vents.
For assistance optimizing your Florida sunroom or if you would like to add one to your home, contact White Aluminum & Windows of Lakeland, FL. Our sunrooms can be built to complement the current architecture of your home while providing you with an incredible space to enjoy your surrounding landscape. Furthermore, we offer screen and shutter solutions to help block out excessive sunlight from your windows. Give us a call today to get started!