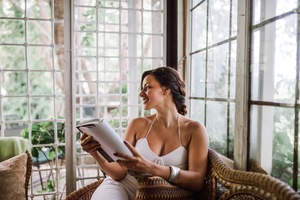 Sunrooms are excellent additions to Lakeland homes for a number of benefits, such as adding square footage, reducing the utility bill, and improving your mood. However, once you add your very own sunroom, you may be wondering how to use all that extra space. The most common uses of sunrooms depend on a few different factors, such as the sunroom's size and what purpose you'd like it to serve. To help our Lakeland homeowners, White Aluminum has compiled a list of the best ways to use your sunroom!
Home Office
According to a 2018 report, 3.9 million employees in the United States work from home at least half of the time. Now, after experiencing over a year and a half of a global pandemic, that figure has likely only skyrocketed since then. This means that the demand for at-home office spaces is higher than ever before. Converting your sunroom into a home office will help separate work from the rest of your home while soaking up sunshine!
Family or Living Room
It's natural for families to outgrow their space, especially as they add to their family tree. Or, perhaps, you have simply become unsatisfied with certain aspects of your floor plan, whether that's the location of your living room or something else. If either of these currently apply to you, then we have an easy solution – sunrooms! We recommend converting your sunroom into a family room if you are in need of a refreshing new spot to spend time with loved ones.
Dining Area
There are a few reasons why sunrooms might be the ideal dining area for your home. First, perhaps you've always dreamed of using your current dining room for something else, whether an office, home gym, or anything else of the sort. By shifting your dining space to the sunroom, you can finally convert your dining room into anything you want! Furthermore, if your home is lacking a true dining area to begin with, voila – add a sunroom and there you have it.
Laundry Room
We believe that laundry rooms should be out of the way and not interfere with the organic flow of your space. That's why laundry rooms are often tucked away in basements or closets that are out of sight and out of mind. However, not everyone prefers to do their laundry in dimly lit or cramped closets. Sunrooms provide a bright and cheery atmosphere that is tucked away from the rest of your home so you can do your laundry in a positive space!
These are just a few ideas for how you can use your sunroom, though the possibilities are truly limitless! Indoor spas, entertainment rooms, craft studios – the list goes on. Sunrooms offer homeowners a peaceful place to utilize however they'd like. Are you ready to add a beautiful sunroom to your Lakeland home? Don't wait – give White Aluminum a call today! We can install a sunroom that matches the pre-existing aesthetic of your home.