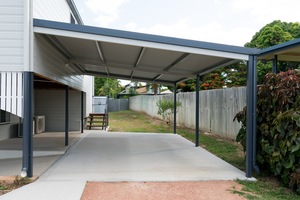 Choosing the right Lakeland carport for your home can be difficult, especially if you are unfamiliar with the process of building one. However, they are a fantastic addition to any property, and well worth any amount of homework that it takes to get it right. Below, find White Aluminum's guide for finding the perfect carport to match your lifestyle.
How Will You Use Your Carport?
Most commonly, carports are used to protect homeowners' cars or trucks (as you might guess). However, they are also an ideal choice for covering motorcycles, off-road vehicles, lawn equipment, and other vehicles. Figuring out how you will use your carport first is key because it will determine the optimal size before being built. White Aluminum's friendly experts will help measure and make sure the size of the carport is perfect for what you plan to keep under it.
What Type of Carport Do You Want?
After figuring out how you'll use your carport, the next step is determining which type you'd like. For example, choosing what material you'd like your carport to be made out of, or if it's enclosed or open-sided. Many Lakeland carports are often built with metal, wood, and vinyl. White Aluminum custom builds each carport out of your choice between structural aluminum or composite panels. Plus, we offer trim options to match the aesthetic of your home.
Where Do You Want It Installed?
It is important to consider where you'll want your carport installed, and if it will be on concrete or soil. Carports can be built seamlessly onto existing concrete, or you can consider having fresh concrete or pavers, bricks, and other materials placed as the surface of your carport. If you'd rather have it installed on soil, that's okay too! Anchors can be added for extra security to ensure that your new carport stays stable, even when it's built on soil.
Look Forward to the Future
Don't only consider the here and now when purchasing your Lakeland carport. For example, you may be a one-car family now, but will that still be true 10 years from now? You absolutely must consider your own future needs before finalizing a decision. Take into account any additional space that you may need in the short-term and long-term future, including additional vehicles or equipment storage.
Carports are incredible additions to any home! They offer a wide array of benefits to homeowners, including protection against the elements and they even act as an extension of your living space. Contact White Aluminum today to learn more about our carports for Lakeland, Florida homes, as well as our other incredible products.