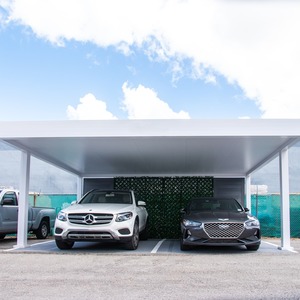 You may already know that White Aluminum Lakeland designs and installs beautiful, functional aluminum carports - but did you know that there's more than one way to use this versatile outdoor feature? Just read on to discover five more uses for your carport beyond, well, storing your car!
Sun-safe play space
Now more than ever, parents are conscious of their kids' safety while spending time out in the sun. Sunscreen and floppy hats can help, but a carport can provide the extra layer of defense you need against the elements - so your child can stay out longer and safer! Carports also provide a degree of protection against the rain, so even a passing shower can't put a damper on play (or on your child's one-of-a-kind chalk creation).
An extension of your garden
Gardening is a fun hobby with potentially delicious results, depending on your crop - but sometimes, your backyard's direct sunlight might be too harsh a growing environment. A carport provides the shade you need to grow a greater variety of plants, so you can reach the next level of green thumb.
A hobby haven
Carports are naturally great for housing your vehicle, but they can also shield hobby rides like an ATV, motorcycle and other on-the-go items.
Destination DIY
If you love DIY projects, but don't have a comfortable place to do them, a carport might be just what you need! Get out of your cramped garage and enjoy some fresh air as you paint, saw and DIY to your heart's content.
Blank canvas for creative decor
Some homeowners may not think about holiday decor too much before, say, Thanksgiving - but there are others of us who can't help but imagine grand light displays and decor schemes all year long! If you fall into the later camp, you will appreciate our aluminum carports' potential for fun decorative flourishes - giving you more space to string up colorful lights or even put inflatable figures on top of your carport for a vertical "next-level" display.
We hope that these ideas help inspire your next outdoor project! With the help of our versatile Lakeland carports, and our experienced design team, the options are truly endless on this project and so many more. Contact White Aluminum Lakeland to learn more and get started.