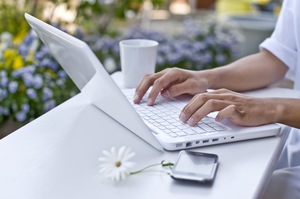 You already live in paradise - why not work in paradise? With more and more of us working from these days, now might just be the perfect time to turn your Lakeland patio into a comfortable, functional work-from-home space. Just read on to see how to do it.
Stay connected (or not)
If your work is tech-dependent, you will want to choose an outdoor spot where you can work with your home's Wi-Fi and plug into an exterior wall to charge your devices, if needed. Alternatively, your outdoor office can be an escape from being constantly "plugged in," a space for you to generate ideas and thoughtful solutions while still taking a break from emails and other day-to-day tasks.
Cover up your workspace for chill vibes and no glare
Of course, with Florida's strong sunshine, you may find it helpful to add a patio cover to shield yourself and your computer from the sun. See the screen a little clearer while still soaking in all the benefits of fresh Florida air!
Consider a sunroom or screen room
If your work-from-home setup goes long-term, you might start considering more permanent solutions to your "outdoor office." A sunroom or screen room can help you add some structure to your workspace (you can add a fan and beautiful flooring, for example) while still letting you enjoy the best the outdoors have to offer.
Surround yourself with a gorgeous, inspiring view
Studies show that time spent looking at natural greenery can boost our productivity and enhance our overall mental health! This is good not only for your workday, but for your personal wellbeing - so as you type, write or crunch numbers, consider positioning your setup so that you are facing a beautiful view like a favorite tree, your garden or palm-lined pool.
Work smarter, not harder
Your "outdoor office" doesn't need to be a fully functioning, 9-to-5 destination. You might choose to use it as a creative center, the place to work on big-picture projects instead of more detailed tasks, for example. Or simply use it as a break space when you grow tired of the same old surroundings indoors!
We hope that these ideas help you make your work-from-home experience more efficient and enjoyable! For help with this project and so many more, call White Aluminum Lakeland today. We're here to help solve your home improvement needs with our friendly, experienced team and design insights from more than 60 years of serving Sunshine State communities.