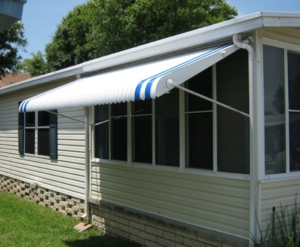 When you let White Aluminum install our beautiful Lakeland awnings outside of your home, you aren't just adding a fresh new look to your home's exterior - you are protecting your space from the elements and making an investment to save on your home's energy bill, too! Wondering how? Just read on to learn more about this small but mighty addition.
Simple savings
Owning a home is a big, ongoing investment, so you naturally want to look for ways to save wherever and whenever possible! Adding an awning (or several) to your home's exterior is one surprising way to do exactly that. Our awnings are made with a durable baked-on, high-glass finish in an open slat design. This unique design allows soft, natural light to filter in (beautifying your home and making for that perfect selfie glow), minus the harsh UV rays that can increase your energy bill and damage your home's drapes, furniture and flooring over time.
A cooler interior
Kick back and relax! With the help of our stylish, functional awnings, you can enjoy a cooler experience even in those areas of your home that tend to receive the most heat and sunlight throughout the day. During the summer and on hot days all year long, having a cool oasis indoors is extra-appreciated by Sunshine State homeowners.
Added privacy at home
Speaking of relaxing, do so with total peace of mind! Awnings can also provide an extra dose of privacy, shielding much of your window's path of visibility from the street outside.
Decor options abound
If you're someone who likes to think about your holiday lights all year long, an awning might be perfect for you! Awnings give you extra "real estate" from which you can hang gorgeous, glowing lights and concoct other elaborate decor displays. It's just another fun way to reflect your one-of-a-kind style and enhance your home's curb appeal, during holiday season and all year long.
Ready to install our stunning awnings outside of your home? Call White Aluminum Lakeland today! We can't wait to work with you on this project and so many more.