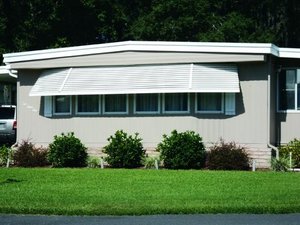 Growing in popularity, today awnings can be seen outside restaurants, corporate offices, entertainment venues, and even private residences. The versatility and attractive look of awnings makes them an excellent choice for both homeowners and business leaders alike.
When used around your home in and near The Villages, awnings add interest, aesthetics, and value. Neighbors and guests will be impressed by your home improvement attention to detail, and also the many benefits that awnings can provide to them.
Use these suggestions to learn more about the uses and functions of awnings around your property. Then, make plans to install high-quality aluminum awnings for an instant property value boost, and improved pride of ownership in your home environment.
1) Shelter and Comfort
Though most days in and near The Villages are sunny and pleasant, this region is still susceptible to inclement and even severe weather. Under the protection of your home awning, you and your guests will be free from high winds and pounding rain. Awnings also supply shade, and contribute to a cooler outside environment.
If you have furniture and other décor outside your home, Lakeland awnings can be the perfect shelter so these items don't fade, warp, or otherwise fall into disrepair.
2) Aesthetics
Just as replacement windows in Lakeland, Florida make your property stand out from the rest, a well-placed awning adds instant beauty, and can easily become a neighborhood landmark. Visitors, neighbors, and even people passing by will be able to immediately realize that you're a responsible homeowner who cares.
Creating an ambiance and inviting atmosphere in this manner also makes friends and loved ones increasingly apt to both visit your home, and also spend more quality time bonding and making lasting memories. When coupled with screen rooms in Lakeland, Florida, your property can easily become the talk of the town.
3) Energy Savings
As mentioned, awnings provide both shade and a cooler atmosphere below. When you prevent temperatures from rising to intolerable levels, not only will you and your guests be more comfortable, but you can also see a big savings in your utility bills.
For instance, when you install awnings over your Lakeland windows, you block both the heat and harmful UV rays of the sun. That adds up to an improved quality of life for everyone who visits your home. You'll also reduce your reliance on artificial climate control, which can result in big savings for home cooling. It's a win-win all around.
4) Versatility
In addition to the mentioned benefits, awnings can extend your outdoor space. That's saying nothing of the sheer versatility of this innovative home improvement solution. Along with home use, awnings can be put to commercial benefit as well. That includes everything from restaurants, retirement homes, hotels, hospitals, professional services, corporate offices, and more.
Best of all, awnings make the perfect complement to other home improvement upgrades in and around your home. Some great examples include screen rooms, pool enclosures, PGT windows, pergolas and ultra-lattice shade, louvered roof systems, hand railing, carports and patio covers, and much more.
For more than six decades, we've partnered with residents just like you on a wide variety of home improvement projects. During this time, we've built a solid reputation as the premier dealer of hurricane shutters in Lakeland, Florida. Browse our website to witness all the creative and functional products available to you. Then, contact us today to get started on the next upgrade to your home and/or business.