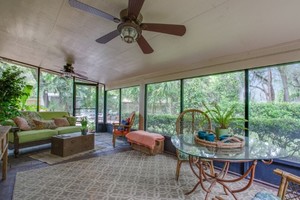 As spring approaches, so does the prospect of spending a lot more time in your Florida screen room or sunroom. Nothing beats the fresh air, cool breeze, and sounds of nature enjoyed right from the comfort of your own home. However, these types of rooms require special types of care to stay in top shape year-round, and there's no better time to take care of this than right around the turn of a new year. Read on for a few tips for tidying your screen room Lakeland FL residents can depend on season after season, year after year.
Washing the Screens
While on the surface, cleaning the screens of a screen room may seem daunting, but it's actually quite a bit simpler than you may think. First, ensure you're working on cleaning on a sunny afternoon, where the water is likely to evaporate more quickly. Soak the screens preferably with a garden hose, or if not a garden hose, a water spray bottle. After soaking for a bit, scrub the entirety of the screen with a soft bristle brush, and take care to be thorough, but not such hard scrubs that you compromise the screen's structure. Spray everything down once more to get rid of the grime you scrubbed up and repeat this process for any spots that may seem particularly dirty. Use a fast-absorbent towel to take care of any excess water, but make sure it's one that won't leave any small fibers in the screen.
Cleaning the Windows
Unlike the sunny days best for screen cleaning, sunroom vinyl windows are best left to clean when it's cooler and cloudy. Since vinyl can scratch, make sure to be somewhat gentle while you clean the frame by using a soft cloth of brush. Avoid solvent-based or abrasive cleaners here, sticking with something such as isopropyl alcohol or mineral spirits. Use a glass cleaner solution with a soft cloth for the inside of the windows. The outside may require a bit more effort to get rid of dirt, with some mild soap or detergent. Let it soak, clean with a cloth, then use the glass cleaner solution method as described above.
Mold Removal
Regardless of whether you have a screen room or sunroom in Lakeland, ensuring your home remains mold-free is a must for both your family and your home's health. Mold can grow virtually anywhere, especially places where moisture can be trapped, and the humidity Florida brings makes this even more pressing. Bleach is the number one weapon here, but should only be used in well-ventilated spaces. Combine 1 quart of bleach in 3 quarts of warm water, and apply where there is mold. If you don't feel comfortable using bleach, you can swap for a 50/50 mix of white vinegar and warm water instead. After soaking, scrub and then rinse with warm water, performing the same process as described above.
Pressure Washing
If you have a pressure washer, it can work well for both screens and sunrooms. Perfect for hard-to-reach areas or ones that are particularly stubborn with grime, hot water and little pressure can sometimes do just the trick to get rid of dirt and mold. Make sure to use low pressure, though - you don't want to damage your screens or scratch your vinyl.
Start the new year off right by using these tips to clean your room addition in tip-top shape year-round! If you ever have any questions, need help with this process, or are thinking about expanding your home with a room addition, pool enclosure, or replacement windows Lakeland FL residents can turn to White Aluminum for all of their home improvement needs.