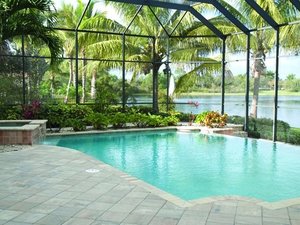 Like pool floats, towels, sunscreen and flip-flops, a quality pool enclosure is a must-have accessory for any summer pool day. If you don't have one yet, we've got you covered—literally! Read on as we share a few simple ways to design the perfect pool enclosure, and enjoy it all year long.
Sport your go-to style
Just like any other feature of your outdoor space—from your front door to your landscaping to your patio furniture—your pool enclosure is a great way to reflect your personal style! First, consider color. Both white and bronze finish framing are timeless, easy-to-please options, so choose one that best suits your current patio setup (or the look of your dream patio that you're in the process of designing).
Did you know that you can also select a frame style to complement your design goals? When it comes to rooflines, you can opt for a flat style; hip, characterized by its sloped sides; dome, which showcases a gently curving ceiling; or gable, which features an angle that can easily complement the roof of your home. Each can create a unique style and atmosphere in your outdoor space.
Surround your space with lush natural cover
On hot summer days, there's nothing like stepping into a cool, refreshing pool—but without a pool enclosure, shade came with the unwanted side effect of leaves and seeds falling into the water. Once you've eliminated that problem, take some time to surround your space with lush natural cover in the form of broad-leafed plants, flowers and trees that help turn your pool into a tropical escape! It keeps you cool and adds a touch of fresh, fragrant air to your space.
Light it up
You can use your pool enclosure to frame a poolside light-scape. Classic string lights work as well on your patio as they do on a Christmas tree, so use them to create a cozy, inviting atmosphere you and your guests are sure to enjoy on impromptu pool nights!
Provide plenty of comfy seating
Your pool enclosure keeps out many pests and debris, helping to make the space inside that much more comfortable. Continue with the cozy feel and add soft seating options, from a great outdoor sofa set to cushions and ottomans that can be arranged for casual get-togethers around the pool.
Dig in
By keeping out what you don't want, your pool enclosure helps you create a food-friendly space as well. Enjoy more freedom as you entertain by setting up a buffet table of easy poolside eats (from nachos to finger foods, fruit salads, wraps and more) and spicing up your next party. Your pool enclosure allows for an easy extension of your entertaining space, so enjoy it to the fullest all summer, and beyond.
By designing a new pool enclosure, Lakeland residents can spruce up their space and enjoy a stylish, practical addition that delivers benefits all year long. Just call White Aluminum & Windows Lakeland today to learn more and get started.