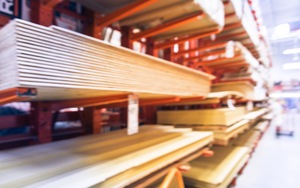 We naturally all want to feel peace of mind during hurricane season—but if plywood has been your go-to storm protection solution, you may be missing out on the convenience and dependability of other options. Why not make the switch this summer?
Read on to learn more about the potential downsides of plywood covers for your doors and windows—as well as a few key benefits of modernizing your storm prep routine. Take a look!
When it comes to storm protection, plywood doesn't make the cut
While plywood may be a common sight as you drive down the street pre-hurricane, the experts don't recommend it as a first-choice storm protection solution. This is because plywood is not built to withstand the strong wind and rain associated with hurricanes. For example, plywood is not compliant with South Florida Building Code. And even when it comes to the statewide code, only specific instances of plywood are accepted. For example, it must not be too thin, and is not acceptable for strong hurricanes over 180 mph. Plus, plywood won't work on large openings as its prone to bending in on itself.
The bottom line? When you want protection for the highest possible winds, and all types of door and window openings, plywood simply doesn't make the cut when compared to more modern solutions which are made specifically for storms.
Plywood is not a year-after-year solution
Wood can warp when exposed to water, making it weaker during the buildup of rain before and during a storm. Plus, this prevents you from being able to use plywood during the next storm or next season—requiring you to take another trip to the home improvement store for wood and getting it cut to the right shape.
Preparing plywood for your home can be a cumbersome process
No one wants to get caught up in the pre-storm scramble for supplies and plywood. Unlike plywood, you can purchase other means of hurricane protection (such as aluminum shutters) one time, so that they are suited to your doors' and windows' exact measurements and, thus, ready to go whenever there's a potential storm.
It can be difficult to affix plywood to your home
Plywood is also typically more difficult to work with than its counterparts, such as aluminum shutters (which are often lighter and easier to grip and install), or accordion shutters, which can be made storm-ready in seconds. Of course, there's no option easier than impact windows, which are ready to protect your home from a hurricane from the moment they're installed.
You deserve a stress-free solution
Most importantly, you deserve a stress-free solution to potential storms! With traditional shutters, accordion shutters or impact windows from White Aluminum & Windows Lakeland, you can spend more time on stocking up on food, preparing your family (and pets!) for the storm, or simply relaxing to enjoy some helpful peace of mind.
Are you ready to make the switch to modern storm protection solutions like accordion hurricane shutters in Lakeland and the surrounding area? White Aluminum & Windows Lakeland is here and happy to help. We have six decades of experience in serving Sunshine State homes with home improvement projects and smart storm solutions. Call us today and see what we can do for you!