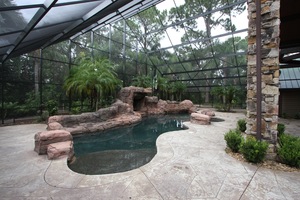 Cool weather may be kicking in, but you don't need to forego family fun around your pool and patio! With White Aluminum pool enclosures Lakeland FL homeowners and those in the surrounding area can enjoy the best that our Sunshine State winter has to offer. Just read on to learn more about this surprising cool-weather solution!
Shielding against evaporation...
One of the biggest benefits of a pool enclosure is its ability to ward of evaporation and its unwanted effects - especially heat and chemical loss from the pool you work so hard to maintain. A pool enclosure creates a sort of greenhouse effect below, keeping heat close to the water for a more comfortable swim even on brisk days. Depending on the weather and your unique preferences, it may be pleasant enough to jump right in! Or, you might like to pair your pool enclosure with a heating system for an extra warm swim. Either way, a pool enclosure helps your regular energy spending stretch even further.
... and unwanted signs of winter
For as much as we truly love winter in the Sunshine State, it also comes with a few unwanted side effects - namely, leaves, seeds and debris from the trees above! With our pool enclosures, you can avoid cleanup time and focus, instead, on family fun and relaxation around the water.
A stylish addition
Winter is when many Florida homeowners like to beautify their homes and outdoor spaces with aesthetic additions - and a pool enclosure makes sense in this regard, too! With different colors and shapes to choose from, you can customize the look of your enclosure to match your desired decor scheme. Go for an atrium effect and fill your space with lots of lush plants, or take a modern, streamlined approach with sleek lines and a flat roof. The options are endless.
Preparing for a splashing season ahead
Another big benefit of installing a pool enclosure during the winter months? You can get the project done well in advance of the more traditional "swim season," the warm, sunny days of spring when pool parties and long, lazy days in the water spring up like flowers. Don't waste that quality swim time! Get the project done now for peace of mind and a jump-start on energy savings.
Winter, spring, summer and fall, White Aluminum Lakeland's pool enclosures help you make the most of your outdoor space. Contact us today to learn more about installing a custom structure in your very own backyard - the perfect blend of style and function for serious splashing fun.