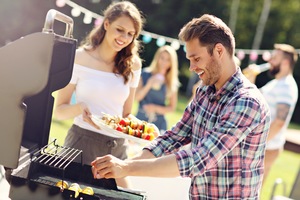 Looking forward to summertime entertaining? We are, too! As you prepare for backyard barbecues, holiday gatherings and just-because fun, we've got you covered when it comes to optimizing your space for even easier entertaining. Just read on to see our top five ideas.
Define your spaces…
If you have lots of backyard space to work with, you can optimize it by defining separate spaces throughout. For example, you can use a pergola, or even turn your current porch into an acrylic or vinyl room, to create a designated "chill" spot with food, drinks and a fan or two. The open areas of your yard can be gaming zones, perfect for throwing around a ball or working on the grill.
… or maximize a small area
On the other hand, if you have a smaller backyard space, you can still optimize it to suit your needs! Work vertically with plants so that you can enjoy lots of vibrant colors and sweet fragrances, even if you don't have too much ground to work with—a pergola, in this case, is great because you can grow vines and other plants on the sides and the shade above.
Use screens for easy pass-through serving
Whether it's a sliding glass door or pass-through window, make sure your screens are intact and ready for the summertime! This way, you can enjoy the fresh air and easy access indoors and out, without letting in bugs, leaves and other debris.
Spruce up your pool space
If you have a backyard pool, now is a great time to spruce it up. One great option to consider is a pool enclosure, which will help keep leaves and seeds out of the pool all summer long, meaningless cleanup and more swim time for you! You can also set up a poolside space with chairs or a dining table, perfect for letting you supervise younger swimmers in comfort and style.
Add homey touches
Your favorite homey touches aren't just for indoors! By adding touches such as string lights to your pergola, or comfy pillows and a rug to your outdoor entertaining space, you can create an extension of your home that your guests are sure to enjoy as they kick back and relax.
With the right outdoor space, your entertainment options are endless! We hope that these ideas help you enhance the al fresco experience this summer and beyond. Let White Aluminum & Windows help you with these outdoor projects and beyond—just call us today to learn more.